This article is a continuation in the series of articles related to selling stock photography online. As you may recall, a friend of mine decided that the Internet would be a great place for her (a busy mom with a passion for photography) to earn some extra money.
Her and I discussed the different avenues for pursuing this venture leveraging her photo-taking skills.
I talked to her about the different avenues for selling her photos in the world of stock photography. I told her that she could have her own web site, and also talked about selling in existing marketplaces. She wanted to know which one was the "best" to do.
My reply was simple: both.
I think that if the plan is a log term one, then having your own web site is a must. Also, jumping into existing marketplaces, I think is smart to help spread the word about your web site, and also make sales in the mean time.
Obviously the customers that already visit the pre-existing marketplaces will be your ideal customer base for your own web site in most cases. So it pays to impress them there and eventually filter them (ethically) into your own sales funnel.
Start With Your Own Web Site To Begin Its History
I think that while there will probably be sales more immediately in the established marketplaces, there is no better time than now to get your own web site established. The longer it exists, the more authority it could potentially have.
Without it, it's almost like being at an event and not having business cards to hand out. Sure, you might make sales at the event, but how will they contact you later?
That's why I think it's smart to have the web site built first. Plus it really doesn't take long at all, especially when using WordPress and existing tools that are designed to do the job.
Then, after that, put some of your work for sale in the existing marketplaces. It pays of course, to know a little about the marketplaces before jumping in.
Who are the major players? What are the benefits? What are the restrictions? Let's explore these questions in more detail below.
What Are The Top 5 Stock Photo Marketplaces Online?
Let's have a peek at the top 5 stock photo selling sites and some of the restrictions imposed on sellers.
1) Getty Images
GettyImages has been around (and a powerhouse in this niche) for years. They have a huge gallery and have put a pretty specific emphasis on conceptional and emotional photography. They also offer very editorial stock photography and celeb photography as well as shots from events.
GettyImages is a bit more selective than most in the industry and they have a particularly rigorous selection process. It ultimately involves taking a quiz after reading their guidelines, submitting an extremely high quality portfolio, and awaiting acceptance.
If (and once) you're accepted, you'll have the unique opportunity to submit your work into House Collections that feature great photos of particular themes. This is a great way to get your photos out there.
There is no exclusivity contract with Getty and similarly to other stock photo sites you're still the owner of your images purely allowing Getty to make a profit for offering licensing to their members for your images. This obviously benefits you because it puts you in front of their audience.
The payout rate for GettyImages is said to be about 20% commission per download which is not much comparatively in the market. However, it's important to keep in mind the wider audience and the higher price points that Getty is known for as well.
2) Big Stock Photo

With a gallery spanning over 15 Million, BigStockPhoto is one of the more mainstream stock photo providers. They've been in the game since 2004 and are a reasonably "big fish" in the industry. You can sell both vector art and photography through BigStock.
They offer a simple and streamlined application process. You simply sign up for an account, review their tutorial on how to proceed, and start uploading. If needed, you will have to upload model release forms, etc. and then once you've completed that, you can start earning.
There is no exclusivity clause with BigStockPhotography and the earnings start at about $0.50 per image depending on the plan that the customer used to purchase your image. Large images and vectors can earn you $3.00 and "Extended Licenses" can earn you $25.00 per image.
The extended license basically allows you to purchase rights to use the image you're buying for resale. Any user who buys this, gets some level of exclusivity with your image but of course they are not the owner. As quoted from the BigStock website, "If you would like to use the image as the primary element of merchandise for resale or in web or electronic template, you need to purchase an Extended License. Choosing the correct license ensures that the artist is compensated and ensures that you're using the image appropriately."
3) Alamy Stock Photography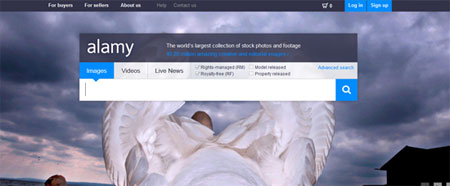 Alamy is a favorite among photographers.
They've been around since 1999, meaning they've been in the game for a while and know how to generate a profit. However, they don't have as much recognition as some of the more "mainstream" photography sites.
That said, what they lack in recognition they make up for in loyalty. They have a completely unique ranking system that shows you your rank based on performance like views, searches, zooms, etc. making it easy to figure out how you need to improve to start selling more.
Selling here is non-exclusive, which makes their 50% commission scale a big bonus for photographers everywhere. With most of the high quality images on the site selling from $10.00+, you're looking at a very husky commission scale in comparison to other sites.
4) iStockPhoto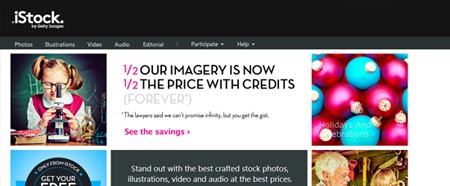 iStockphoto is one of the most widely used stock photo sites on the web today. Their modest price point in combination with their huge selection of truly high quality images makes them ideal for small business owners, large scale businesses, and all the in between.
Like Getty, iStockPhotos has a selection process that involves being a member, identifying what you're selling, and passing a quiz based on their terms and guidelines to contribute to their site. You'll also have to submit a portfolio or sample of your work to get approved. Again, they're a bit selective so as always put your best foot forward.
If and when you're approved, you can expect to earn a 15% royalty commission for approved photos. One unique feature iStockPhoto offers is their optional exclusivity program. If you've had over 250 downloads of your work, and you have had a minimum of 50% approval on your photos, iStockPhoto will pay you 22-45% commission in exchange for you selling your work exclusively for them.
This doesn't mean you can't sell other photos on other sites, this only means that the photos you submit to them are for them only. This is completely optional, and is simply a way to increase revenue when it makes sense to do so.
5) Envato's PhotoDune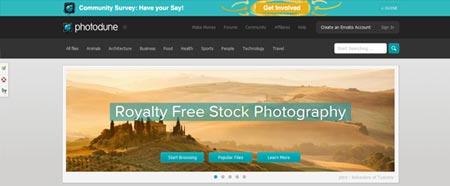 PhotoDune is a newer up and coming stock photo site that is gaining a lot of traction this year. In fact, it is one that I use frequently because I am a big fan of Envato's various marketplaces. I am a seller and buyer in a few of their digital stores.
The marketplace network seems to have been created with the average webmaster in mind. Envato has marketplaces for everything from photos, to graphics, to coding, to tutorials, to themes and more, and PhotoDune is just one subset of the plethora of marketplaces Envato offers.
While they're relatively and comparatively new, PhotoDune offers sale rights that most photographers struggle to pass up. Their commission structure is very multi-dimensional offering between 50-70% commission for exclusivity (meaning you only submit images to them that are not, will not, and have not been sold anywhere else) and 33% commission for non-exclusive images.
Even their nonexclusive rates are higher than most stock photography sites on the market right now, but when you're talking about potentially making 70% commission on your images, you're looking pretty good in terms of a solid income making PhotoDune a great option.
That said, their entry process is also pretty simple. You sign up, and submit images for approval. Not everything is approved, but when it is, you can start earning the money that you went into it for.