When you install the WP Photo Seller plugin, it will create the following required pages for you automatically.
Cart
Checkout
IPN
Recipt
Photo Gallery
Photo Details
These pages are needed by the plugin to function correctly. So do not delete these pages from the pages menu.
If you have accidentally deleted them then you can do the following to regenerate the pages.
Step 1) Go to the "Admin Functions" menu of the photo seller plugin.
Step 2) Click on the "Regenerate Default Pages" button.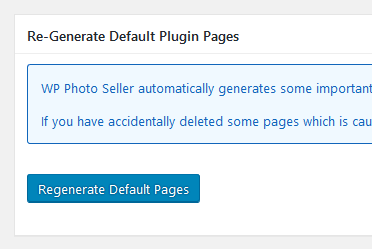 Step 3) Go to the "Settings" menu of the plugin and make sure the correct photo details page is selected for the "Photo Details Page" field.
That should recreate the page for you. Go to the settings menu of the plugin and make sure the correct pages are set.
Photo Details Page Still Not Loading
If the photo details page is still not loading correctly after the pages have been regenerated, then go to the following interface of WordPress and hit the "Save" button just so the rewrite rules get refreshed.
WordPress Settings -> Permalinks